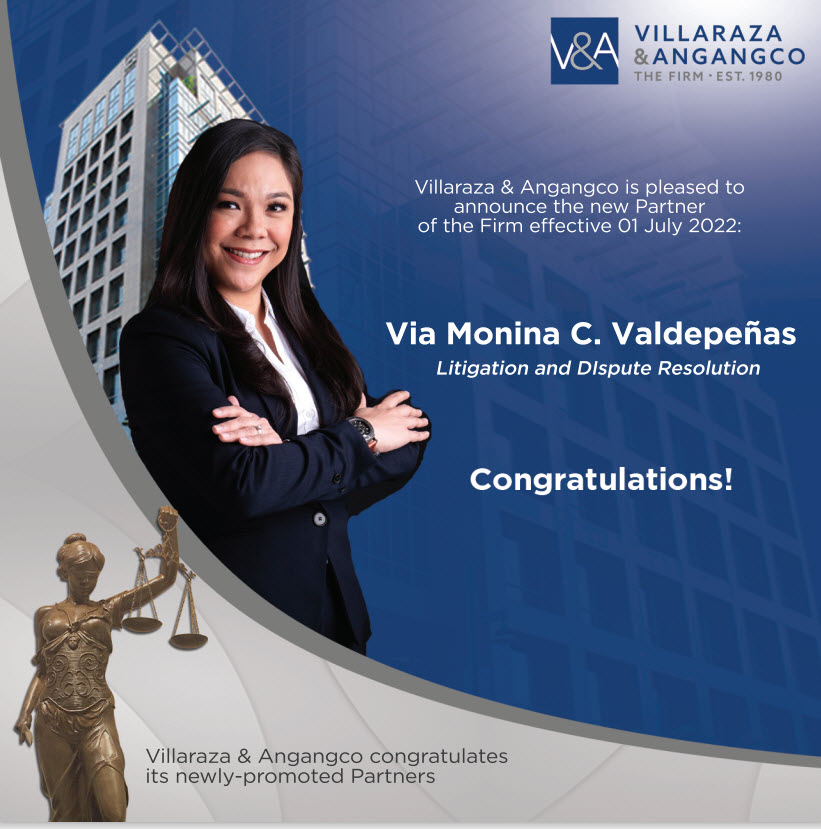 Villaraza & Angangco ("V&A Law") is pleased to announce the promotion of Atty. Via Monina C. Valdepeñas of the Firm's Litigation and Dispute Resolution Department to Partner, effective 01 July 2022.
Atty. Valdepeñas has more than seven years of experience in litigation and dispute resolution. Her practice includes civil, criminal, and commercial litigation, corporate rehabilitation and insolvency, intra-corporate disputes, construction arbitration, labor and employment, and anti-graft and corruption. She has extensive litigation experience before trial and appellate courts, including the Court of Tax Appeals, and quasi-judicial agencies, such as the Construction Industry Arbitration Commission (CIAC). Among her most notable works are having obtained a favorable decision for one of the Firm's major banking institution clients on an appeal before the Supreme Court involving a multi-billion peso claim, secured millions of pesos in awards in various cases before the CIAC for one of the largest construction companies in the country; and having secured dismissals and acquittals in proceedings against high-ranking officials before the Ombudsman and the Sandiganbayan.
The promotion recognizes her outstanding contributions and unparalleled commitment in serving clients, and in continuously establishing V&A Law, The Firm, as among the world's most outstanding law firms.
Congratulations on the well-deserved promotion!