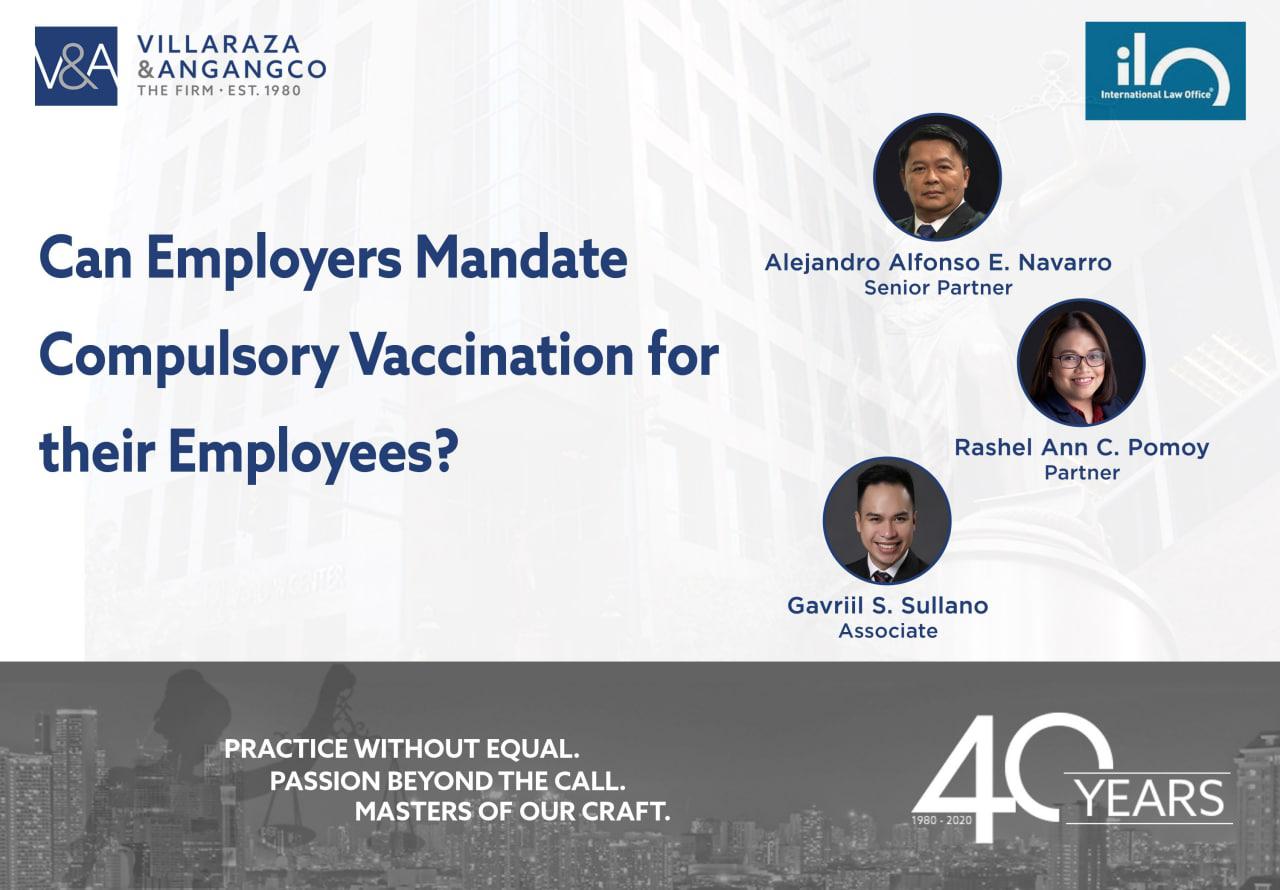 The COVID-19 pandemic continues to ravage society. For the greater part of 2020, economies were brought to a standstill and lives were lost to the virus. In an effort to eradicate COVID-19, vaccines have been developed at a rapid pace. Employers are now contemplating imposing workplace-wide vaccination programmes in order to bring back available workforces and increase operational efficiency. Is this legally permissible?
Employers' management prerogative to enact measures to keep workplaces safe
Employers have a management prerogative to require employees to be healthy and fit to work. This is pursuant to the principle that employers are free to regulate, according to their discretion and best business judgement, all aspects of employment – from hiring to firing – except in cases of unlawful discrimination or those which may be provided by law.(1)
In Yrasuegui v Philippine Airlines (590 Phil 490 (2008)), the Supreme Court upheld Philippine Airlines' company policy requiring its employees to be physically fit and adhere to its weight standards. The Supreme Court held that an employment policy is valid and justified, provided that it satisfies the Meiorin test (adopted from the Canadian Supreme Court). Under this test:
(1) the employer must show that it adopted the standard for a purpose rationally connected to the performance of the job? (2) the employer must establish that the standard is reasonably necessary to the accomplishment of that work-related purpose. (Emphasis added.)
Thus, in Yrasuegui, the Supreme Court upheld Philippine Airlines' weight standards for its cabin crew because its imposition is to ensure flight safety, as "cabin attendants must maintain agility at all times in order to inspire passenger confidence on their ability to care for the passengers when something goes wrong". The Supreme Court found that a cabin attendant's body weight and size are important factors to consider in case of emergency, since an "overweight cabin attendant would certainly have difficulty navigating the cramped cabin area".
As such, there is strong legal basis to state that compulsory vaccination can be validly implemented by employers when it is reasonably necessary, based on scientific evidence, to keep the workplace safe. There is a greater risk of virus transmission if employees are made to report to work physically without first being vaccinated. If unvaccinated, employees will be unable to perform their duties safely and efficiently, especially if success of the job depends on face-to-face interactions.
Under Article 282(a) of the Labour Code, employees may be disciplined, or dismissed, for just cause in case of "serious misconduct or willful disobedience" of an employer's lawful directives or policies, such as a valid vaccination policy. However, to discipline or dismiss employees based on wilful disobedience, two elements must concur, per Gold City Integrated Port Services v National Labor Relations Commission (267 Phil 863 (1990)):
the employee's conduct must have been wilful or intentional, the wilfulness being characterised by a "wrongful and perverse attitude"? and
the order violated must have been reasonable, lawful and made known to the employee and must pertain to the duties which they had been engaged to discharge.
However, there are narrow exceptions to this position of employers' right to mandate vaccination of their employees, including:
if face-to-face interaction in the workplace is not necessary for the employee's performance of the job (ie, prior to the COVID-19 pandemic, the employee was already working remotely)?
a valid medical reason for non-vaccination? and
a valid exercise of religion.
First exception: employees working remotely prior to pandemic
In case of a directive to vaccinate, there is a need to relate the said directive to employees' duties? otherwise, employees may not be disciplined or dismissed for a directive that is unrelated to their work pursuant to the Meiorin test. Since the justification for vaccination is safety in the workplace during face-to-face interactions, this does not cover employees who have worked remotely full time prior to the pandemic.
Second exception: valid medical reason for non-vaccination
In Gold City Integrated Port Services, the Supreme Court held that, to constitute wilful disobedience, the element of wilfulness must not only be intentional, but it must also be "characterized by a wrongful and perverse attitude". Therefore, employers cannot discipline or dismiss employees whose disobedience is not accompanied by a "wrongful and perverse mental attitude".(2) This includes instances when an employee:
refuses to be vaccinated based on known adverse reactions to medication?
has comorbidities that may aggravate the side effects of the vaccine? or
was advised by a competent medical professional not to be vaccinated.
Third exception: valid exercise of religion
Religious freedom in the Constitution promotes freedom of individual religious beliefs and practices.(3) The guarantee of religious freedom comprises two parts:
the freedom to believe? and
the freedom to act on one's belief.
The first part is absolute.(4) However, the second part is limited and subject to the police power of the state.(5) When there is conflict between the free exercise of religion and the state, the courts will adopt the benevolent neutrality accommodation, whereby:
with respect to governmental actions, accommodation of religion may be allowed, not to promote the government's favored form of religion, but to allow individuals and groups to exercise their religion without hindrance.(6)
Whereas the state can invoke police power, employers have management prerogative to rely on and balance with employees' right to freely exercise their religion. In one case, the Supreme Court upheld the right of an employee to not join a labour union on religious grounds despite there being a union security clause (which requires compulsory membership in a union winning a certification election), holding that the free exercise of religion is superior to contractual rights. The Labour Code also requires employers to respect the preference of employees as to when their rest days will be in accordance with their religion. However, to date, there is still no case balancing free exercise of religion with the prerogatives of management.
Consequence of refusal to vaccinate
Even in cases of wilful disobedience, the severity of the penalty that employers may impose must be in proportion to the gravity of disobedience. In St Michael's Institute v Santos (422 Phil 723 (2001)), the Supreme Court held that:
not every case of insubordination or willful disobedience by an employee of a lawful work- connected order of the employer is reasonably penalized with dismissal. There must be reasonable proportionality between, on the one hand, the willful disobedience by the employee and, on the other hand, the penalty imposed therefor.
Accordingly, although employees may be found to have violated their employer's lawful directive to vaccinate, such employees must be disciplined in proportion to the gravity of the offence in due consideration of their length of service and number of violations during their employment. Given the gravity of the pandemic, the severe health risks that it poses to employers and other employees, and the absence of any lesser or less severe penalty, it may be reasonably argued that employers may terminate employees for wilful disobedience.
For further information on this topic please contact Alejandro Alfonso E Navarro, Rashel Ann Pomoy or Gavriil S Sullano at Villaraza & Angangco by telephone (+63 8 988 6088) or email (ae.navarro@thefirmva.com, rc.pomoy@thefirmva.com or gs.sullano@thefirmva.com). The Villaraza & Angangco website can be accessed at www.thefirmva.com.
Endnotes
(1) NAFLU v National Labor Relations Commission (202 SCRA 346 (1991)).
(2) Dongon v Rapid Movers and Forwarders Co, Inc (GR 163431, 28 August 2013).
(3) Escritor v Estrada (AM P-02-1651, 22 June 2006).
(4) Gerona v Secretary of Education (106 Phil 2 (1959)).
(5) Ebralinag v Division Superintendent of Schools (219 SCRA, 256 (1993)).
(6) Supra at note 19. The materials contained on this website are for general information purposes only and are subject to the disclaimer.