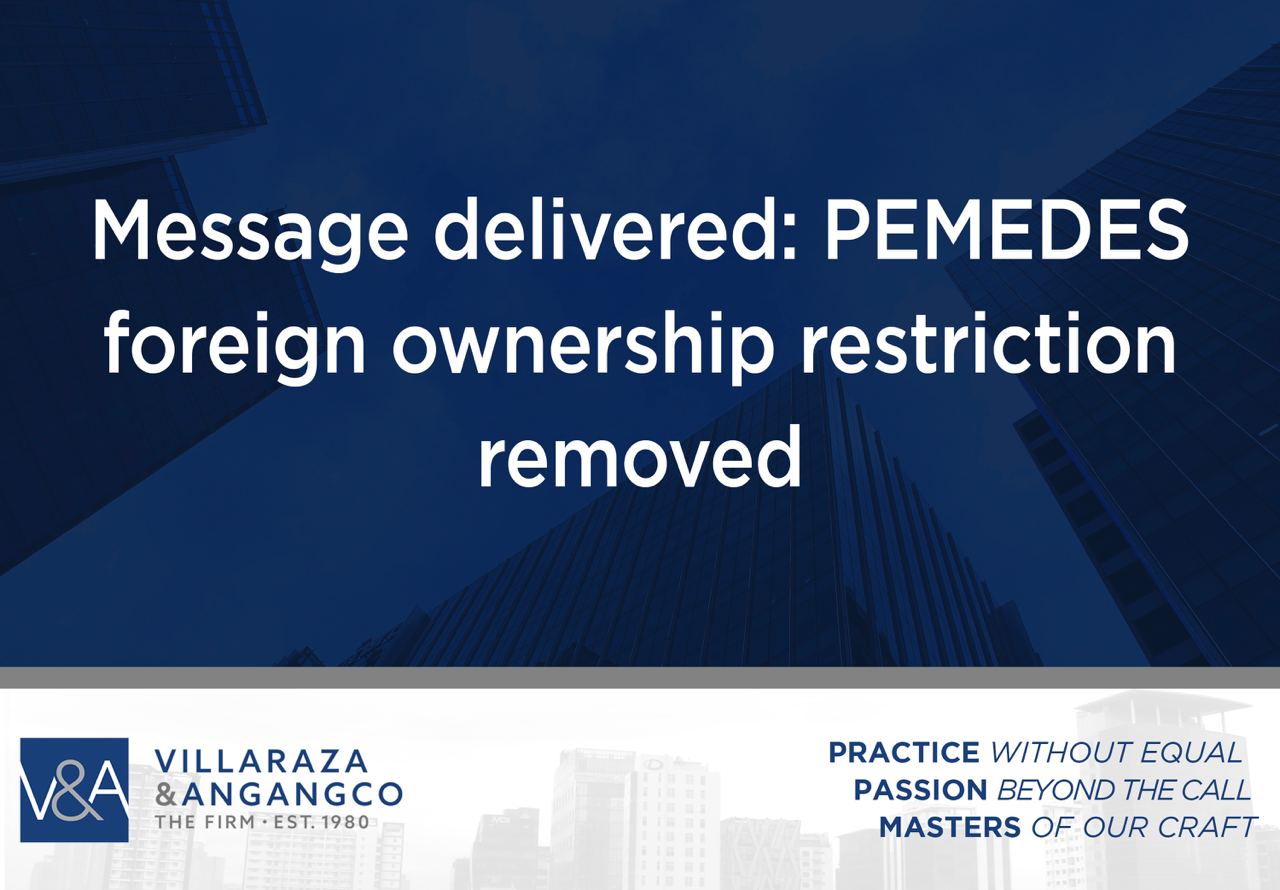 While all else seemed to take a hit during the global pandemic, the world witnessed an unprecedented rise in e-commerce. People were forced to stay at home and turn to their phones to address even the most basic concerns (e.g. groceries, shopping). In the Philippines, platforms such as Shopee, Lazada, and Grab were quickly a staple in every Filipino's mobile phone. These entities which are engaged in small package delivery services, i.e., the Private Express and/or Messenger Delivery Service ("PEMEDES") are regulated by the Department of Information and Communications Technology ("DICT").
Prior to the amendment of the Public Service Act ("PSA"), the authority to operate a PEMEDES was limited only to Filipino citizens or entities with at least sixty percent (60%) capital stock owned by Filipino/s. This foreign ownership restriction was brought about by the confusion as to the definition of "public utility" whose operation was regulated by the 1987 Philippine Constitution.
This ambiguity was recently cured with the passage of Republic Act ("RA") No. 11659 (An Act Amending Commonwealth No. 146, otherwise known as the Public Service Act, as amended) on 21 March 2022.
Filipino First Policy of the 1987 Constitution
The "Filipino First" policy refers to the provisions in the Constitution that limit foreign ownership in certain identified industries; thus, giving preferential treatment to Filipinos. One of the notable provisions is Section 11 of Article XII which states that the operations of "public utilities" shall be limited to Filipino citizens or entities at least sixty percent (60%) of whose capital is owned by Filipino citizens. However, it bears to note that the term "public utility" was not defined by the Constitution. This is where the confusion begins.
Given the lack of a definitive meaning of "public utility," our government agencies relied on the Public Service Act ("PSA") which utilizes the concept of "public service" and "public utility" interchangeably. Due to its seeming ambiguity, the concept of "public utility" has been subject to various judicial interpretations. Carriers or freight services were among those identified by the PSA as a "public service" or a "public utility."
Prior to the passage of R.A. No. 11659
One of the government agencies that subscribed to the interpretation of the PSA was the DICT. It issued Department of Transportation and Communications ("DOTC") Circular No. 2001-01 on 23 January 2001 which characterized PEMEDES as a public utility. It provides that only Filipino citizens or entities with at least sixty percent (60%) Filipino owned capital stock may file an application for authority to operate. This is why, for the longest time, foreign investors were prohibited from investing in PEMEDES without local partners.
Key change introduced by R.A. No. 11659
The amendment of the PSA under R.A. No. 11659 liberalized certain industries from foreign ownership restrictions potentially attracting international investments. There is now a clear distinction between "public service" and "public utility" which meant that only the following industries are now prohibited from being fully foreign-owned:
Distribution of Electricity;
Transmission of Electricity;
Petroleum and Petroleum Products Pipeline Transmission Systems;
Water Pipeline Distribution Systems and Wastewater Pipeline Systems;
Seaports; and
Public Utility Vehicles.
Thus, under the R.A. No. 11659, PEMEDES entities, which are engaged in the business of personal delivery of written messages and mail matters, should no longer be subject to foreign ownership restrictions since it does not fall under any of the above-mentioned industries.
This notwithstanding, the DICT still maintains and implements the status quo until it issues a circular to carve-out PEMEDES entities from the definition of public utilities. For now, foreign-owned domestic corporations who wish to secure a PEMEDES license will have to await the DICT to issue a circular implementing R.A. No. 11659.